Victor Valdes Joins Manchester United - Signs 18-Month Contract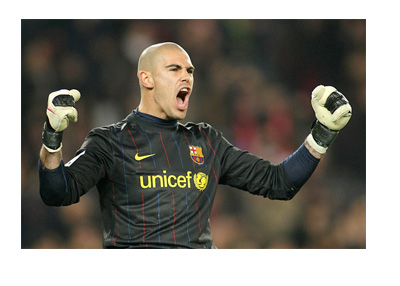 Ex Barcelona goalkeeper Victor Valdes has agreed to an 18-month contract with Manchester United. United manager Louis van Gaal has gone a step further by saying that he will help the 32-old Spaniard in the recovery of a knee injury that kept him on the benches of Barca for almost a year. His recovery will be under the supervision of the the United medical staff and training with the first team will begin once he regains full fitness.
Valdes's 15-year tenure with Barcelona saw the Catalan club win 6 La Liga and 3 Champions League titles. He holds a Barcelona record for not conceding a goal for 466 minutes of game time. He is considered the best goalkeeper in Spain after Real Madrid's Iker Casillas. Valdes had made it known before the last season itself that it will be his last at Nou Camp. But his campaign was cut short by a tear in his anterior cruciate ligament, an injury that also kept him out of the 2014 World Cup.
Valdes's entry into United puts a cloud over their current first-choice goalkeeper, David de Gea - although the 32-year-old has signed on at Old Trafford as understudy to de Gea and is reported to be training with the United squad for the last two months as a free agent as part of his recovery.
De Gea's has featured in every United fixture this season, although his reputation took a beating when he let in four goals to a League One side Milton Keynes Don in August and five against Leicester in September. But he's definitely been on the mend after that. United have conceded just 7 in their last 13 matches.
News of Real Madrid wanting the 24-old year old de Gea in place of an ageing Casillas at the Bernabeu could smoothen Valdes's transition at Old Trafford. Danish international Anders Lindegaard who had been bought in at a £3.5m deal in January 2011, has made only 19 appearances for United so far and doesn't seem likely to make the cut as a first-choice goalie for the club very soon.
All this could well mean that Victor Valdes could be Manchester United's main man between the posts sometime down the year.