Rough Summer for Iker Casillas and Victor Valdes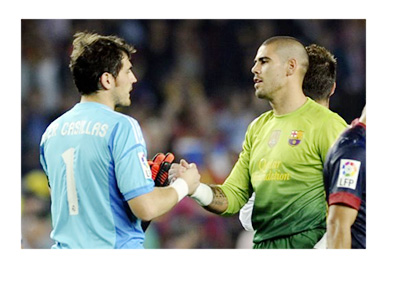 The two legendary Spanish goalkeepers, world and double Euro champions, Iker Casillas and Victor Valdes, are going through testing times at the moment.
Casillas just got booted off the Real Madrid squad after three difficult seasons. He has never been the same after locking horns with Jose Mourinho back in 2012. Now he is off to Porto where he is going to have to prove himself again. Casillas is a Madrid legend who spent his entire career at the Bernabeu. Since he was nine years old. But he started to do funny things on the pitch lately. Even in the 2014 Champions League final, when Real Madrid won their long awaited
La Decima
, Casillas looked unstable. Let's hope he can bring his A game back at Porto. After all the media scrutiny, a fresh start might be just what the doctor ordered.
Victor Valdes was ready for blast-off as he was letting his Barcelona contract expire two years ago. After joining the club when he was ten and winning everything there is to be won playing alongside Messi, Ronaldinho, Eto'o and company, he wanted to try something new. He wanted to play in a different league. Major teams, including PSG, were lined up to snap him. He ended up injured his knee before signing on the dotted line and had to sit out, without pay, for two long years. He appeared at Old Trafford one day last season, first in the stands and then on the bench. He was a Manchester United player, ready to challenge for the number one spot. But this fell apart quickly after he refused to play by Louis Van Gaal's rules, who tried putting him on the under-21 team. Now he is up for sale and may end up in Turkey according to the reports.
Unfortunate turn of events for at one time two top goalkeepers on the planet.
--
How will these two legends react?
Where will Valdes end up?
Is he the player he once was?
Iker is 34 and Valdes is 33.
For goalkeepers that is still primo.
Cmon guys. Let's do this!