Bayern vs. Barcelona and Borussia vs. Real Madrid - UEFA Champions League Semi-Finals - Internet Ticket Prices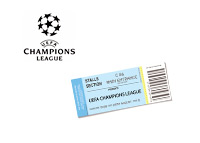 Ticket prices for the two sold out UEFA Champions League semi-final matches in Dortmund and Munich are soaring on the world wide web.
In Dortmund, 66,829 tickets that were released to the public for the match between Borussia and Real Madrid sold out within minutes and today the prices on the internet sell in the range from €170.65 for the most affordable seats in the Away Fans section, to €3,405.22 for the premium center-field section tickets on the West side of the Signal Iduna Park stadium. The most affordable tickets for the home fans are in the nosebleeds of the south-east side of the stadium and they cost €249.00 on the Viagogo.com website.
In Munich, the tickets for the first leg match between Bayern and Barcelona at the Allianz Arena (capacity: 71,137) on the internet range from €365 for the away team fans (Onlineticketexpress.com) to €1,378.00 for CAT 1 lower level seats on Ebay. The most affordable tickets for the home fans are the behind the goal seats at €399 (Onlineticketexpres.com) and the CAT 3 upper level seats at €643 (Premiumtickethub.com).
Ticket sales for the final stages of the UEFA Champions League are big business for the clubs and scalpers alike. It will be interesting to see what some of these tickets will cost hours before the kick-off.