Odds for Tottenham Hotspur vs. Arsenal - 28th Round of the English Premier League
Tottenham Hotspur are hosts to Arsenal in the North London derby at White Hart Lane on Sunday, March 3rd in the 28th round of English Premier League.
Tottenham are in third place with 51 points at the moment while Arsenal are in fifth place with 47 points. Arsenal beat Tottenham 5-2 on November 17th in the league.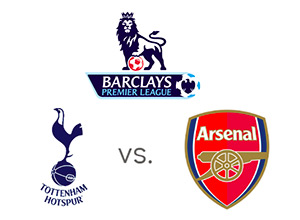 Betting odds for the upcoming game are:
Tottenham 13/10
Draw 13/5
Arsenal 9/4
A $100 bet on Tottenham if successful would yield $130 in profit while the same bet on Arsenal would yield $225 in profit if Arsenal won.
Tottenham, undefeated in the last eleven English Premier League matches, are the favourites. They played really well in the month of February and are entering this match with a lot of positive momentum. Tottenham won three out of three EPL games last month vs. West Ham, Newcastle and West Brom and they also eliminated Lyon in the round of 32 of the UEFA Europa League. Gareth Bale is on fire at the moment and he is the player to look out for on Sunday. Striker Jermain Defoe has recovered from injury and he might be in the starting eleven while Sandro, Younes, Huddlestone and Dempsey will be absent.
Arsenal are in good form in the EPL as well and they also won their three games in February vs. Aston Villa, Sunderland and Stoke. Arsenal got destroyed in the UEFA Champions League by a strong Bayern Munich side and will be looking to bounce back. Sanga will miss the upcoming match due to knee injury, Diaby is a maybe because of a calf problem and Gibbs remains out with a thigh injury.
Tottenham Coach Andre Villas-Boas and their star player Gareth Bale won Barclay's Premier League manager of the month and player of the month awards for February.
The upcoming match between Tottenham and Arsenal is the match of the week in the English Premier League and it should be a good one. Game starts on Sunday evening at 8:00 PM GMT.