Top 10 Best Selling Football Shirts in 2015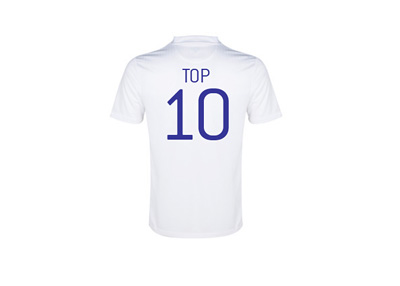 Here we take a look at the top ten best selling football shirts in 2015 according to the online megastore Kitbag.
Headquartered in Manchester, England, Kitbag is the biggest reseller of licensed football shirts in the world. They have exclusive rights to operate official online stores of clubs such as Manchester United, Real Madrid, Barcelona, Chelsea, Manchester City and Borussia Dortmund.
Below are this year's top ten most popular player names as chosen by Kitbag customers for their shirt orders:
1. Lionel Messi (Barcelona)
2. Cristiano Ronaldo (Real Madrid)
3. Memphis Depay (Manchester United)
4. Bastian Schweinsteiger (Manchester United)
5. Eden Hazard (Chelsea)
6. Wayne Rooney (Manchester United)
7. Neymar (Barcelona)
8. Sergio Aguero (Manchester City)
9. Alexis Sanchez (Arsenal)
10. Philippe Coutinho (Liverpool)
--
Is it a surprise at all that the Argentina national team and Barcelona FC shirts with the name of Lionel Messi on the back are the biggest sellers again this year?
--
Here are a few players whose shirt sales are on the rise:
Pedro (Chelsea)
Kurt Zouma (Chelsea)
Thibaut Courtois (Chelsea)
Luka Modric (Real Madrid)
Isco (Real Madrid)
Philipp Lahm (Bayern Munich)
Morgan Schneiderlin (Manchester United)
Raheem Sterling (Manchester City)
Diego Costa (Chelsea)
Jack Wilshere (Arsenal)
--
Most players above are from the big four English Premier League teams and the two Spanish giants, Real and Barcelona.
Whose shirt are you eyeing this year?