Top Football Clubs Ranked by Squad Value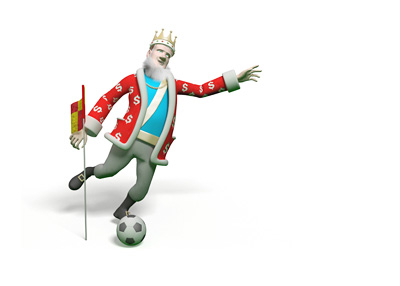 We are halfway through the 2016 summer transfer season. Let's pause for a moment and take a look at the current squad valuations of top football clubs, according to the Transfermarkt website.
Without doing a single major trade this summer, aside from bringing back Alvaro Morata from Juventus, Real Madrid are the world's most valuable football team. With global superstars Cristiano Ronaldo, Gareth Bale and James Rodriguez on the books this is hardly a surprise.
Here are the top 25 most valuable squads in club football today:
1. Real Madrid - €783,30m
2. FC Barcelona - €767,50m
3. Bayern Munich - €574,70m
4. Chelsea FC - €559,55m
5. Manchester City - €541,50m
6. Atletico Madrid - €523,80m
7. Arsenal FC - €493,45m
8. Manchester United - €469,25m
9. Paris Saint-Germain - €447,05m
10. Juventus FC - €445,00m
11. Liverpool FC - €440,55m
12. Tottenham Hotspur - €383,85m
13. SSC Napoli - €337,70m
14. Borussia Dortmund - €329,65m
15. Inter Milan - €270,70m
16. AS Roma - €265,55m
17. Everton FC - €242,25m
18. Bayer 04 Leverkusen - €228,05m
19. Sevilla FC - €223,70m
20. AC Milan - €199,10m
21. FC Porto - €198,40m
22. Valencia CF - €186,20m
23. FC Schalke 04 - €185,15m
24. AS Monaco - €183,00m
25. SL Benfica - €181,78m
--
The highest ranked non-European team is Argentina's Boca Juniors, currently occupying 69th place. Boca squad's estimated worth is €78.3m.
The top teams on the list above, such as Real, Barca, Bayern and City, all have roughly 26 squad members; Chelsea on the other hand have 40. The Blues are famous for loaning their players to 'farm teams' season after season.
Manchester United are in 8th place on the list above, but if they manage to land their target Paul Pogba this summer, they could easily climb into the top 5.