FIFA Confederations Cup 2013 - Tahiti vs. Nigeria - Betting Odds and Game Preview - June 17th, 2013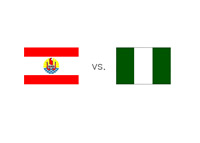 Tahiti and Nigeria will face-off in Group B of the FIFA Confederations Cup on June 17th, 2013 at Estádio Mineirão, Belo Horizonte, the second largest stadium in Brazil after Maracanã.
Tahiti, the Oceania Football Confederation (OFC) Nations Cup winners, are the outsiders in this match. The odds of them beating Nigeria are 25/1 which means that a $100 bet on Tahiti could produce $25,000 in profit if Tahiti managed to win.
Nigeria, the Africa Cup of Nations winners are the outsiders in the tournament, and in Group B which also features the World Cup / European Cup winners Spain and Copa América winners Uruguay, but in the first game vs. Tahiti, they are the huge favourites. The odds of Nigeria winning on Monday are 1/14 which means that a $100 bet on the Super Eagles returns $7 in profit if successful.
Some of the players to watch on the Nigerian team are the 24-year-old Efe Ambrose who plays for the Celtics, Chelsea midfielder Mikel and the FC Dynamo Kyiv striker Brown Ideye.
Nigeria are such big favourites to win that the most likely scorelines according to the odds are a 3-0 victory valued at 9/2 and a 4-0 victory valued at 5/1.
It will be interesting to see how this game plays out!