Newly Renovated Stade Velodrome, the Home of Olympique de Marseille, is Ready for Euro 2016
The newly renovated Olympique de Marseille stadium, Stade Velodrome, is a thing of beauty.
As France is gearing up to host the Euro 2016, a lot of the stadiums nationwide are getting a makeover. Stade Velodrome, which has always been the pride of the city of Marseille, is one sweet looking stadium following the renovations.

Here are some notes about the newly done up Stade Velodrome:
- Stadium capacity has been increased from 60k to 67k
- Thousands of new VIP seats have been added
- Huge underground parking was built
- Stadium now has handicap access
- New roof was built
- Stadium acoustics were kept in mind during renos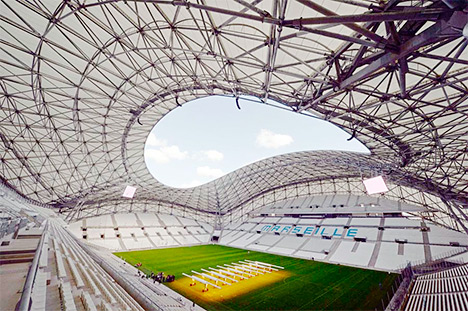 Olympique de Marseille football club will from now on have to pay €10m annually to use the stadium, which is in the ownership of the city of Marseille.
There are no immediate plans to sell the stadium naming rights.
What a nice looking place!