Game Preview: Spartak Moscow vs. CSKA - Russian Premier League - September 22nd, 2013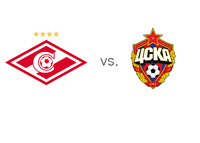 Spartak and CSKA meet in the ninth round of the Russian Premier League on Sunday, September 22nd, 2013 at Luzhiniki Stadium in Moscow. The meeting between these two clubs is the Russian biggest derby.
After eight matches played in the Russian Premier League, Spartak are in third place with 17 points and CSKA are in first place with 20 points.
CSKA most recently lost to Bayern Munich 3-0 in the UEFA Champions League, after beating Amkar 2-1 and Rostov 1-0 in the domestic league.
Spartak most recently beat Volga Nizhny Novogorod 0-1 and FK Tom'Tomsk 2-1 in the league. On August 29th, Spartak suffered a 2-4 defeat at home to a Swiss side St Gallen in the UEFA Europa League and ended up getting eliminated from the competition 5-3 on aggregate.
The odds for the upcoming Moscow derby are as follows:
Spartak 11/5
Draw 21/10
CSKA 27/20
The current Russian Premier League champions, CSKA, are the favourites to win. A 100 € bet on the visiting team could return 135 € in profit, while the same bet on Spartak could return 220 € in profit.
The most likely score, according to the odds, is a 1-1 draw, offered at 5/1.
Should be a good game.