Spanish La Liga at Risk of Being Suspended With Two Games Left in Season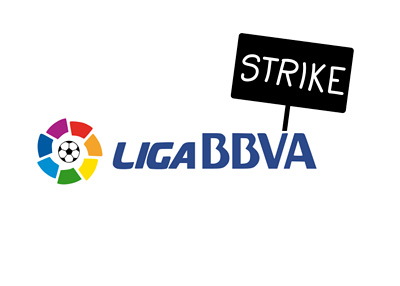 Unless an agreement over the new TV rights deal is reached, all domestic football in Spain will be suspended on May 16, 2015 the Spanish Football Federation (RFEF) has announced.
The RFEF are not happy with the Spanish government attempting to interfere with the league's broadcasting rights and revenue distribution. The law passed last week in the Spanish government (still to be approved by the parliament) forces La Liga to sell TV rights collectively vs. having teams negotiate their own deals like it has been in the past.
The Player's union (AFE) is also on board with the strike as they were left out of the negotiations completely and ended up empty handed. They are arguing that they should receive a cut of the revenues similar to the way things are done in the English Premier League where the players' union receives 1.5% of the broadcasting funds.
If the deal is not reached by May 16th, 2015 the strike will go on and the final two rounds of the domestic leagues will be suspended as well as the Copa del Rey final between Barcelona and Athletic Bilbao.
--
As it has been since the beginning of time, the Spanish football politics is a dirty game heavily influenced by the two giants Real Madrid and Barcelona FC, who have had the monopoly over TV rights up to this point.
Every season in La Liga there seem to be plenty of complaints and threats, and every season there is some kind of a last-minute deal reached.
Let's hope things play out the same way again this year so we can see who wins the league fair and square.