Together Again - Ronaldinho and Eto'o Sign for Turkish Antalyaspor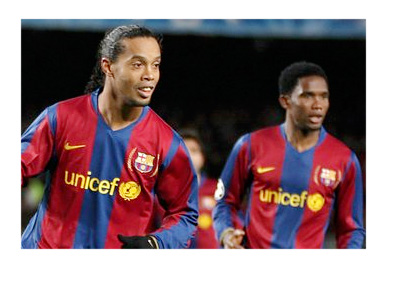 Update (11/07/2015): Ronaldinho ended up opting to stay in Brazil and signed for Fluminese.
One of the more interesting stories in this transfer window is the newly promoted Turkish side Antalyaspor signing two ex-Barcelona legends Ronaldinho Gaucho (35) and Samuel Eto'o (34).
The two players used to light the football world on fire playing for Barca between 2004 and 2008. Eto'o was at one point the most expensive footballer on the planet, while Ronaldinho was, and for some people still is, the most likable and skilled player that has ever played the game. The two helped Barcelona win the league, the cup and the Champions League during their time at the club.
Eto'o, who won the UCL once again playing for Inter Milan, most recently played for Sampdoria after short spells with Chelsea and Everton. The two time FIFA world player of the year, Ronaldinho, last showcased his skills playing for the Mexican side Queretaro, following a stint with the Brazilian club Atletico Mineiro who he won a Copa Libertadores title with, becoming one of a select few players who have won both the Champions League and the South American equivalent.
Will the two ageing stars be able to compete in the Turkish Super Lig remains to be seen. The new signings sure produced the desired effect for Antalyaspor and got the attention of the football community.
--
Pretty excited about seeing these two legends in action again!