Real Madrid vs. Manchester United Game Odds - UEFA Champions League Round of 16 - 1st Leg
Update: Final Score -
Real Madrid vs. Man Utd 1-1
--
The time has come! The UEFA Champions League is back on, and on Wednesday, 13th of February 2013 we are in for a treat as Real Madrid host Manchester United at Santiago Bernabeu in the 1st leg of round of 16.
This game, as always is the case when these two teams meet, is creating a buzz in the football world.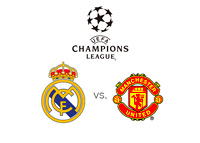 Real Madrid and Manchester United are among Europe's elite clubs in terms of
financials
and popularity. Cristiano Ronaldo, Real Madrid's star player, made his name at Manchester United before transferring to Madrid in 2009 for a
record transfer fee of 80.000.000 £
. This will be the first time he faces his old club since the move. This coming Wednesday he will have to play against Premier League's most lethal duo, Wayne Roonie & Robin van Persie.
This game is going to be a spectacle.
Real Madrid 4/6
Draw 3/1
Man Utd 15/4
This means that a successful bet on Real Madrid would yield a total of $167 while the same bet on Manchester United would yield a total of $475.
Real Madrid are sizeable favourites to win the first match at home.
Real Madrid are miles away from winning the Spanish league this year and going far in the Champions League is that much more important to them. 'Los Blancos' believe they are ready and that this is the season to do it. They are going all out in this match. They proved in their last league game vs. Sevilla on Feb 9th that they mean business by winning 4-1 and so did Cristiano Ronaldo by scoring a hat-trick.
Manchester United are 12 points ahead of 2nd place Manchester City in the English Premier League and most recently they beat Everton 2-0 at home. The team is performing very well and they are confident. One handicap for Manchester United is that they played a league match this Sunday (vs. Everton) which leaves them with only Monday and Tuesday to rest before travelling to Madrid. Real on the other hand will have one extra day to prepare.
Manchester United won their UEFA Champions League group with ease ahead of Galatasaray, CFR Cluj and SC Braga, while Real Madrid had to fight to qualify to the knockout stage of the tournament coming in 2nd behind Borussia Dortmund and ahead of AFC Ajax and Manchester City.
Real Madrid vs. Manchester United is one of those sporting events that will be watched around the world, across all time zones.
Out of their four past encounters Real Madrid came out on top in three, most recently in the 2002/03 quarter finals where Real won by 6-5 on aggregate (3-1 in Madrid and 3-4 in Manchester).
Real Madrid vs. Manchester United matchup is as good as it gets in European club football.
We are looking forward to Wednesday!
Notes:
UEFA named Felix Brych as the main referee for the match.