Game Preview: Real Madrid vs. Juventus - UEFA Champions League - 23.10.2013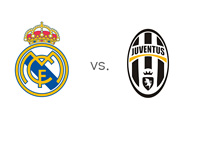 Real Madrid are hosts to Juventus in the third round of the UEFA Champions League group stage at Santiago Bernabeu on Wednesday, October 23rd, 2013.
Real are playing well. They are third in La Liga, three points behind Barcelona and two behind Atletico. In their last league game vs. Malaga they dominated and won 2-0 (should have been 5-0). In the UCL, Real Madrid are a dominant force. They destroyed Galatasaray 1-6 and beat Copenhagen 4-0 so far.
Juventus are third in Serie A, five points behind AS Roma and leveled with Napoli. They broke down in their last game vs. Fiorentina and lost 4-2, after going up 2-0. Three goals they conceded within four minutes and all four within 15 minutes. In the UCL, same story. They drew with Copenhagen 1-1 and then drew with Galatasaray at home 2-2.
Let's take a look at the odds:
Real Madrid: 8/15
Draw: 10/3
Juventus: 5/1
According to the odds, Juventus are going to Madrid for a spanking. A 100 € bet on Real Madrid could return 54 € in profit, while the same bet on Juventus could yield 500 € in profit.
Cristiano Ronaldo is the favourite to score at 4/7, while Carlos Tevez is the favourite to score for Juve at 15/8.
It would be a good time for Juventus to show that they are still in this season.
Real Madrid might go all out on Wednesday.
Looking forward to seeing Bale play.
Could be a good one!