Real Madrid vs. Betis - La Liga - Betting Preview and Game Odds - April 20th, 2013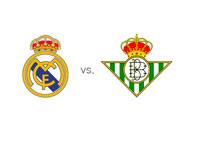 With seven matches to go in the Spanish La Liga, Real Madrid are hosts to Betis on Saturday, April 20th, 2013.
Real Madrid are in second place with 68 points after 31 matches and this is their last test before travelling to Dortmund to face Borussia in the UEFA Champions League semi-finals on Wednesday the 24th. Real Madrid are still battling to keep their #2 spot in the league as Atletico are right behind them with 65 points. Will Jose Mourinho choose to play the top 11 against Betis or will he be resting players for the big Champions League match?
Betis on the other hand are in seventh place in the league with 48 points, two points behind Malaga and Valencia. Now with Malaga being banned from UEFA competitions next season, Betis have a good chance of qualifying for the Europa League next year. This is an important game for Betis.
Lets see where the odds are at for the upcoming match at Santiago Bernabeu.
Real Madrid 1/4
Draw 5/1
Real Betis 9/1
A $100 bet on Real Madrid brings back $125 ($25 in profit) while the same bet on Betis could bring back $1000 ($900 in profit).
The odds of Cristiano Ronaldo scoring are 1/4 (Bet $100 to make $25 in profit), Karim Benzema 8/13 (Bet $100 to make $61 in profit), Gonzalo Higuain 8/11 (Bet $100 to make $72 in profit), while the highest odds for a Betis player to score are for Martin Ruben Castro at 21/10 (Bet $100 to make $210 in profit).
After beating Granada 1-5 on April 5th, Betis tied Sevilla at home 3-3 last weekend. Real Madrid most recently beat Galatasaray in Instanbul 2-3 in the UEFA Champions League on April 9th and then won vs. Athletic 0-3 in the domestic league last weekend.
On Novemer 24th, earlier in the season Betis beat Real Madrid at home 1-0.
This should be an interesting game. Real Madrid have a busy schedule and are playing four games over the next 11 days. They are meeting third place Atletico in the league on April 27th, three days after playing Borussia in the first leg and three days before playing Borussia again in the second leg. Real Madrid might not be able to play their top team vs. Atletico so they will need to make sure they get points vs. Betis. Will Jose Mourinho put his best team on the field this coming Saturday is the question.