Paris Saint-Germain vs. Valencia - Match Preview - UEFA Champions League - Round of 16 - Second Leg
Paris Saint-Germain are hosts to Valencia in the second leg of the UEFA Champions League round of 16 on Wednesday, March 6th, 2013 at Parc des Princes stadium in Paris at 20:45 CET.
The score in Valencia was 1-2 for the visitors.
Match Preview:
PSG will be playing without their star players Zlatan Ibrahimovic and Marco Verratti due to suspensions while Thiago Silva is back from the injury and will be available. David Beckham might play in place of Verratti.
This will be a very tough match for Valencia as they will have to score at least two goals in Paris in order to advance.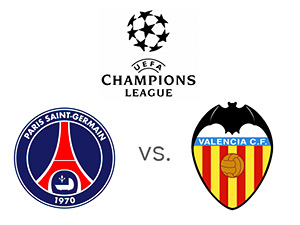 Full Time Result
PSG 10/11
Draw 11/4
Valencia 16/5
To Qualify
PSG 1/9
Valencia 6/1
The odds are heavily stacked in favour of PSG. A $100 bet on PSG to qualify, if successful, would bring in $11 in profit while the same bet on Valencia could bring in $600 in profit.
Sure the chances are small here but Valencia are an experienced team and quite capable of surprising PSG on Wednesday.
Valencia are in 5th place in La Liga and they have 5 points out of their last 3 games. Most recently they tied vs. Levante 2-2.
PSG are in 1st place in Ligue 1, in the quarter-finals of the Coupe de France and still alive in the Champions League. They are the only big league club that are still going for the treble (domestic league, cup and the UEFA Champions League titles). Most recently PSG lost to Stade de Reims 1-0 in the league.
PSG and its wealthy owners have invested aplenty in the club and the home match against Valencia will be a test of their team's maturity. Can they perform without their star striker Zlatan Ibrahimovic who has scored 22 times in Ligue 1 so far this season and 2 times in the UCL?
Zlatan has played for Europe's biggest clubs such as Ajax, Juventus, Inter, Barcelona, AC Milan and now PSG and one thing missing on his resume is the Champions League title.
Is this the year?
This will be a very interesting match.
Can Valencia surprise in Paris?