Paris SG vs. Olympic Marseille - Game Odds and Notes - Coupe de France - Round of 16
To close out the month of February, which has been action packed when it comes to Euro football, there is one more match worthy of attention.
After meeting in the French Ligue 1 on Sunday, Paris Saint-Germain are hosts to Olympic Marseille again in the Coupe de France round of 16. The score in the league match was 2-0 for PSG.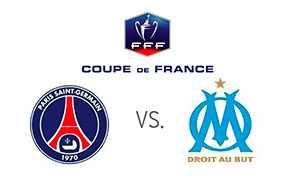 PSG win was comfortable and it is no surprise that the odds are in favour of them to advance to the quarter-finals. At betclic.com these are the lines:
Paris SG 3/5
Draw 11/4
Marseille 9/2
A successful wager on PSG would yield $60 in profit while the same wager on Marseille would yield a profit of $450.
The word on the street is that David Becham will start the match for PSG for the first time. He was instrumental in the 2nd goal over the weekend and it will be interesting to see how he performs playing the full 90 minutes.
The two teams met earlier in the season in the league on October 7th in Marseille and the score there was 2-2. PSG hosted Marseille in the Coupe de la Ligue round of 16 on October 31st and they won that game 2-0.
PSG are in the number one spot in Ligue 1 with 54 points after 26 matches while Marseille are in 3rd place with 46 points.
PSG beat Valencia 1-2 in the 1st leg of UEFA Champions League round of 16 on Feb 12th and then lost to Sochaux 3-2 in the league on the 17th prior to meeting Marseille.
Marseille tied Evian Thonon 1-1 on Feb 10th and beat Valenciennes 1-0 on the 16th.
The matchup between bitter rivals PSG and Marseille in France is called 'Le Classique' and the tension between their fans is legendary.
Should be a good one.