Game Preview: Atletico Madrid vs. Real Madrid - Spanish La Liga - Feb. 7th, 2015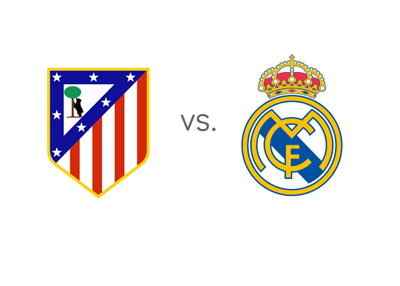 Despite being beset by nagging problems Real Madrid are at the top of the La Liga with 54 from 21 matches and will be the more complacent but not confident side at Vincent Calderon on Saturday. Their firepower is expected to be bolstered by the return of Cristiano Ronaldo after a three-match suspension. But not fully. A slew of injuries stare at Los Blancos ahead of tonight's clash with James Rodriguez, Sergio Ramos, Luka Modric and Pepe all on the bench. Colombian wonder boy Jamie Rodriguez will be out for weeks after suffering an injury against Seville a few days earlier and will require a foot surgery. A torn hamstring will keep ace defender Sergio Ramos out for at least five weeks.
By contrast, Atletico are a fully fit side and also being accused of playing "physical football". Their tactics came under a lot of fire in their recent Copa del Rey encounter against Barcelona which saw them receive two red cards.
Real coach Carlo Ancelotti has shrugged off Atletico's supposedly "violent" approach to the game as least worrisome. He is aware of his rivals' defensive capabilities and rates them among the best in the world in that department. Yes, it will be the usual suspects - Ronaldo, Benzema, Bale and Toni Kroos against the dour, organized and frustrating and unpredictably brilliant Los Colchoneros. For Atletico on Saturday night, one could find Torres on the bench for most of the time given the brilliant form of Mario Mandzukic and Antoine Griezmann. Koke and Adrian Turan have recovered quickly from their injuries and are raring to go.
Diego Simeone's side have a thing against Real Madrid. The latter haven't won once in their last five encounters. Atletico have beaten Real in the Spanish Supercup and in both the legs of Copa del Rey and even a 2-1 win in their last La Liga clash at the Bernabeu. The last time Los Blancos beat Atletico was in the Champions League final earlier last year.
Indeed, Los Colchoneros with partisan Calderon crowds behind them are likely to be the more confident side given the recent history between the both and would love to narrow the seven point gap with Real. Atletico are currently in the third place on the La Liga points table with 47 points and Los Blancos would surely want to widen that deficit on Saturday night. Real could take a leaf out of Barca's book. Atletico against lost 1-3, this time at home, to the Catalans, who have made a habit out of beating the Madrid club.
The betting odds suggest that it's going to be a tight affair. 6/4 for a Real win, 19/10 for an Atletico win and 12/5 for a draw.