Game Preview: Bayer Leverkusen vs. Atletico Madrid - UEFA Champions League - Round of 16 - First Leg - Wednesday, February 25th, 2015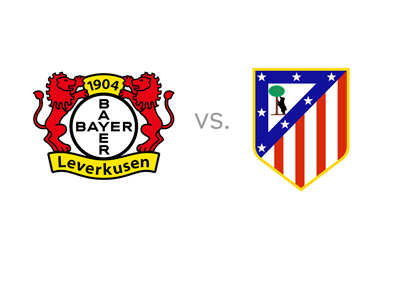 Atletico Madrid definitely look the better side going into Wednesday night's Round of 16 clash with Bayer Leverkusen at the BayArena.
The exit of Diego Costa, Thibaut Courtois and Filipe Luis last season should have hurt. But Diego Simeone wasted no time in finding suitable replacements. The introduction of Mario Mandzukic, Antoine Griezmann and Miguel Angel Moya have breached the void left by the former three up to quite an extent and the Madrid club seems to be getting quickly on the mend. The skillful and physical forward Mandzukic seems to be filling in the shoes the mercurial striker Diego Costa admirably and his five goals in the Group stage ensured that his team lead the cluster with 13 points ahead of Juventus's 10.
Barring a 2-3 loss to Greek side Olympiakos in the opening game, Los Colchoneros won 4 of their 5 remaining Group fixtures. Atletico's Spanish run-up to the Wednesday's Champions clash has witnessed a strange see-saw like trend in performances - a 2-3 loss to Barca in end-January, a thumping 4-0 win against Madrid, a shock 0-2 defeat to minions to Celta de Vigo and a 3-0 win against Almeira. Although not rich in talent like their big two Spanish rivals, the presence of gritty players like Diego Godin, Juanfran and Jose Gimenez give the Atletico defense a rock-like solidity. They are a difficult side to score against. Lightning quick mid-fielders Arda Turan and Koke create attacking platforms for the likes of Mandzukic and Griezmann to exploit on. Adding to that are the crafty tactics of Argentine coach Diego Simeone.
Bayer Leverkusen's outing in the Group stages of the Champions League was less impressive. They managed to garner 10 points, having won just 3 of their 6 fixtures in that stage. Their showing in the Bundesliga this season is nothing to write home about. They are currently in the 6th position in the German League and their recent progress has been nothing but uninspiring. Of the last five matches they featured in, they won in only one. Although they definitely look inferior to Atletico in all departments, the one thing the Spanish club will have to look out for is the lightning counter-attacks spearheaded by their 22-year old South Korean import Son Heung-min. The Korean is the club's most prolific goal-scorer with 8 goals from 18 appearances. Leverkusen do have a propensity to score though. Although placed sixth in the Bundesliga, they have the third-highest tally of 36 goals behind the top two, Bayern and Wolfsburg. It's this inclination to find the back of net that Bayer Leverkusen will need on the night of February 25. Last year's runners-up Atletico may probably make that look like an impossibility.
Odds are definitely on the Spanish club to win going into Wednesday's night clash at the BayArena.
Odds for a Atletico Madrid win: 29/20
Odds for a Bayer Leverkusen win: 21/10
Odds for a draw: 5/2