Game Preview: Portugal vs. Sweden - World Cup Qualifiers Playoff - 15/11/2013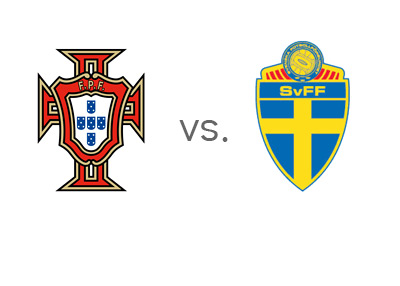 Portugal will host Sweden in the first leg of the World Cup qualifier playoffs on Friday, November 15th, 2013 at Estadio da Luz in Lisbon.
Out of four European play-off games taking place on Friday, this one, perhaps, is the one to watch. Two of the best players in the world right now, Cristiano Ronaldo and Zlatan Ibrahimovic, are set to go head to head.
Portugal finished second in Group F behind Russia and ahead of Israel Azerbaijan, Northern Ireland and Luxemburg. In their last qualifications match, Portugal beat Luxembourg with the score of 3-0.
Sweden came in second place from Group C which featured Germany, Austria, Ireland, Kazakhstan and Faroe Islands. Maybe the most memorable game in all of qualifications was the one played in Berlin, in which Sweden came back from a 4-0 deficit to Germany to finish the game even at 4-4. That was something!
The odds for the upcoming game in Lisbon are:
Portugal: 8/13
Draw: 14/5
Sweden: 9/2
Portugal are the favourites to win. A 100 € bet on the hosts could return 61 € in profit, while the same bet on Sweden could return 450 € in profit.
The most likely score, according to the odds is a 1-0 victory for Portugal, offered at 9/2.
Cristiano Ronaldo is the favourite to score on Friday. The odds of CR7 scoring a goal are 1/1, which means that a 100 € bet could return 100 € in profit. Helder Postiga and Silvestre Varela are next in line, both valued at 15/8. Zlatan Ibrahimovic is the favourite to score for Sweden at 9/4.
Maybe Portugal are a better team on paper with players like Ronaldo, Pepe, Coentrao, Moutinho and Postiga on the roster. Sweden, on the other hand, have proved that can play with enyone, especially with Zlatan up front being awesome.
Both Ronaldo and Ibrahimovic scored three goals each in their last domestic league match over the weekend.
This game could be a good one!