FC Porto Making Big Bucks From Player Sales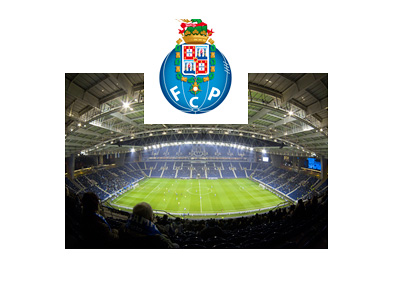 "Buy low, sell high" is not a term just applicable to financial or real estate markets. The Portuguese club of Porto has done it to great effect in the field of football, too. The Primeira Liga club has over the years perfected the art of spotting talent, buying them for cheap, develop them into good players over the seasons and eventually sell them off at a handsome price.
One such recent instant was that of their defender Danilo being sold to Real Madrid for €31.5 million. Porto had paid the Brazilian defender's previous club, Santos, just €13m to bring him over.
Some of the instances of Porto's profitable investment:
James Rodriguez
The Colombian wonderboy and the 2014 World Cup's "Golden Boot" winner was little known when his talents were spotted by Porto. They paid his Argentine club Club Atletico Banfield €5m for his services. During his tenure with Porto spanning from 2010 to 2013 he scored 25 goals from 63 appearances and caught the eye of French club, AS Monaco who forked out a €45m transfer fee to bring him over.
Radamel Falcao
Falcao was another Colombian who was similarly brought over from River Plate club, Argentina, where he had a very fruitful season scoring 34 goals from 90 outings for the club. Porto just paid Falcao's previous club €5.5m in 2009. The Colombian striker was incredibly prolific getting as many as 41 goals from just 51 games for Porto. La Liga stalwarts Atletico Madrid lost no time in lapping up the Colombian for a fee of €45m in 2011. Porto made another killing in the process.
Hulk
Few would have ventured out to Japanese League club Tokyo Verdy to buy the Brazilian forward and that too for a price of €19m. But Porto did just that in 2008. In his four years with the Portuguese club, Hulk found the back of the net 54 times from 99 appearances. In 2012, he was sold to Russian club Zenit Saint Petersburg for €55m. Despite not very outstanding seasons in Russia, he has managed to emerge as the club's highest scorer this year.
Pepe
The Portuguese giant spotted the immense talent of this doughty Brazilian-born defender way back in 2004 when he was just 23 and playing for League rivals Maritimo. They paid €2m for the Brazilian and his awesome qualities as a defender came to the fore at Porto and it wasn't long before he was bought over by Real Madrid for €30m. At Madrid he has also been a constant bearer of controversies having been sent off on four occasions including a head-butt on Bayern's Thomas Muller.
Joao Moutinho
Moutinho was spotted while playing for Portuguese club, Sporting CP. The midfielder's ability to quickly change from attacking to defensive positions prompted Porto to pick him up from Sporting for just €1m. They recorded their highest return on investment till date when they sold him to Monaco for €25m. The 28-year old defender has already won 77 caps for his national team, Portugal.
Ricardo Quaresma
After spending brief spells with clubs like Chelsea, Besiktas and Al Ahli, the 31-year old Portuguese winger is back to where he once belonged. The Lisbon-based club had paid Barcelona €6m for his services in 2004 and later went on to sell him off to Inter Milan for €18.6m in a swap offer that saw Portuguese midfielder Pele making his way back to the Porto.
Ricardo Carvalho
A product of the Porto youth academy, Carvalho was 19 when he played for the Porto outfit which Jose Mourinho guided to a UEFA Championship title. In the summer of 2004 when Jose Mourinho left to manage Chelsea, Carvalho followed for a record fee of €30m. He became one of the best in the business while playing for the Blues and figured in as many as 135 games for the English club before moving to Real Madrid where he performed his duties as a center-back from 2010 to 2013.
Anderson
The Brazilian midfielder moved to Porto from Gremio FB club of Brazil for a sum of €7m in 2006. His talents were spotted by Alex Ferguson and after just one season with the Lisbon club he was brought over to Manchester United for €30m. But he turned out to be a failure at Old Trafford. He failed to live up to expectations despite figuring in over 100 games for the club. He was loaned to Fiorentina where he spent an unimpressive run before heading back to his native Brazil. The crux is that Porto made money on someone like Anderson, too.
Eliaquim Mangala
Porto spent €6.5m in bringing Mangala from the Belgian club Standard Liege in 2011 and he proved money's worth for the club. He was a key figure in the club's defense and was instrumental in Porto's successive League titles. He was impressive in the club's run into the Europa League quarter-finals of 2013-14. The 24-year old's exploits were noticed by Manchester City who paid a record fee of €53m for his services. This is the biggest profit Porto have made on the sale of any player - €46.5m
Danilo
Porto had snapped up the Brazilian defender from Santos at a price of €13m in 2012. Along with Eliaquim Mangala, he showed outstanding defensive qualities to bring Porto two Primeira Liga titles and more recently he had a major hand in the club's advent to the UEFA Champions League quarter-finals to be played out during April next month. Real Madrid couldn't find a more suitable player to fill in their defensive ranks than Danilo for whom they willingly forked out 31.5m. Another good sale for the Portuguese giant.
--
Source:
Goal.com