Pierre-Emerick Aubameyang Tops Euro Scoring Charts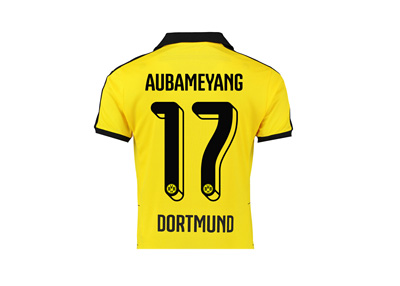 Pierre-Emerick Aubameyang of Borussia Dortmund is on fire at the moment and seems to be scoring for fun. He netted 2 goals this weekend vs. Stuttgart and with seventeen goals to his name became the highest scorer in Europe's top five leagues so far this season.
The 26 year-old Gabon international has been a huge success since arriving to the club in August 2014 from Saint-Etienne. No Dortmund player ever has scored this many goals after 14 games in a season.
Here are Europe's top domestic league scorers so far in 2015/16:
1. Pierre-Emerick Aubameyang (Borussia Dortmund) - 17
2. Robert Lewandowski (Bayern Munich) - 14
3. Jamie Vardy (Leicester) - 14
4. Neymar (Barcelona) - 14
5. Thomas Muller (Bayern Munich) - 13
6. Luis Suarez (Barcelona) - 12
7. Benjamin Moukandjo (Lorient) - 11
--
Cristiano Ronaldo, who is the only player to have won four Golden Shoe trophies, at the moment has 9 goals. Lionel Messi, the three time Golden Shoe winner, has had a fair bit of time off this season due to injury and has so far scored 'only' four times in the Spanish La Liga.
Who is going to end up on top when all is said and done?
--
Pierre-Emerick Aubameyang has also netted four goals in the UEFA Europa League this year.