Betting Preview and Odds - Nice vs. Lyon - 37th Round of French Ligue 1 - May 18th, 2013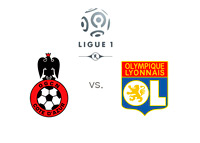 With two games to go in the French Ligue 1 season, fifth place Nice are hosts to third place Lyon on Sunday, May 19th, 2013 at Stade du Ray.
What makes this match interesting is that four clubs are still battling for a 3rd place finish which leads to the UEFA Champions League (UCL) third qualifying round.

Video Highlights



After 36 rounds, the top of the table looks like this:
1. PSG 77 pts (qualified for UCL)
2. Marseille 70 pts (qualified for UCL)
3. Lyon 63 pts
4. Lille 60 pts
5. Nice 60 pts
6. St Etienne 59 pts
While 3rd place finish goes to the UCL, 4th place finish in Ligue 1 earns a spot in the UEFA Europa League (UEA) and Lyon, Lille or Nice are all candidates to qualify. St Etienne already secured their spot in the UEA by winning the Coupe de la Ligue.
With playing in Europe next season on the line, the upcoming match between Nice and Lyon is an important one.
Nice and Lyon have already met twice this season. In the Coupe de la Ligue round of 16 Nice beat Lyon 3-1 at home, while in Ligue 1 Lyon beat Nice 3-0.
Nice 6/4
Draw 21/10
Lyon 19/10
Nice are the slight favourites to win at home. $100 wagered on Nice could return $150 in profit, while the same bet on Lyon could return $190 in profit.
Nice lost their last game to Evian 0-4 after winning vs. Rennes 0-3 and Troyes 3-1.
Lyon most recently lost to PSG 0-1 after beating Nancy 0-3 and drawing with St Etienne 1-1 at home.
The top of the table in French Ligue 1 is very tight right now and it is likely that we will not know who qualifies for the UEFA Champions League and who gets to go to the UEFA Europa League until the last games are played on May 26th.
Lets see how all this unravels.