Great Start to New Euro Football Season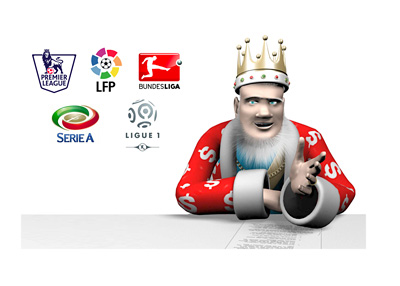 As we head for the international break, it is perhaps a good time to review the latest happenings from Europe's big five football leagues.
In England, after four rounds of games played, Manchester City are looking by far the strongest and it is no surprise to see them as the heavy (1/2) favourites to run away with the title. Last year's champions, Chelsea FC, seem lost, Manchester United have not impressed, while Liverpool and Arsenal look alright at best.
Here is where these five teams stand at the moment:
1. Manchester City - 12 pts. (1/2)
5. Manchester United - 7 pts. (14/1)
6. Arsenal - 7 pts. (6/1)
7. Liverpool - 7 pts. (50/1)
13. Chelsea - 4 pts. (11/2)
It should be mentioned that City trashed Chelsea 3-0 a week or two ago.
--
After two rounds of games played in Spain, Barcelona and Atletico have six points each, while Real Madrid are already two points behind. Having said that, Real were outstanding on the weekend as they put five goals past Betis. If you have not seen the highlights, you might want to check them out.
Here is the situation at present:
3. Atletico Madrid - 6 pts. (16/1)
4. Barcelona - 6 pts. (4/7)
5. Real Madrid - 4 pts. (13/8)
--
In Germany, Bayern, as they have been for the last three seasons, are very convincing and are the favourites to win the league to a point where many sportsbooks are not even offering those odds. Borussia Dortmund started their season with a bang and have won all their games so far, scoring on average just under 4 goals per game. Could they be a contender? Let's hope so, because the alternative is a yawner. Wolfsburg would be in the picture somewhere as well, but they just sold their star player, Kevin de Bruyne, to Manchester City.
After three rounds of games played, the Bundesliga table looks as follows:
1. Borussia Dortmund - 9 pts. (12/1)
2. Bayern Munich - 9 pts. (1/16)
3. Wolfsburg - 9 pts. (20/1)
October 3rd, 2015 is when Bayern and Borussia clash for the first time.
--
In France, we have another season of PSG dominance ahead. No point in writing more about Ligue 1 as Paris Saint-Germain are the 1/20 favourites to win (at a few books that are still offering odds for this).
--
Good thing there is Serie A where things are cooking nicely. After selling Tevez, Vidal and Pirlo, Juve are in trouble two games into the season. They lost both matches, second of which was to Roma who strengthened their squad this summer with the arrivals of Dzeko, Salah and Chezney. Juventus have won the last four Scudettos; so are we about to witness change? Nope say the odds:
3. Inter - 6 pts. (10/1)
7. Roma - 4 pts. (5/2)
12. Milan - 3 pts. (16/1)
14. Napoli - 1 pts. (12/1)
17. Juventus - 0 pts. (10/11)
--
So that's that folks. New season is well under way and will be back on Saturday, September 12th, 2015. In the mean time, two rounds of Euro 2016 qualifiers will take place.
The UEFA Champions League starts on Sept 15th.