AC Milan vs. PSV Eindhoven - UEFA Champions League Qualifiers - Second Leg - August 28th, 2013 - Odds and Preview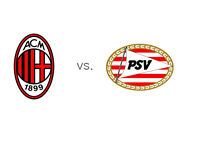 AC Milan are hosts to PSV Eindhoven in the second leg of the UEFA Champions League qualification play-offs. The match will take place at San Siro Stadium in Milan on Wednesday, August 28th, 2013.
The score in the first match in Eindhoven was 1-1.
This should be a great match. PSV played well in the first leg and deserved a draw against the very strong AC Milan side. PSV dominated in the first half and had several close chances to score. Will they be able to rise to the challenge this Wednesday? Will they be able to give AC Milan a game in front of a capacity crowd at San Siro stadium?
Let's take a look at the odds for the upcoming match:
Milan: 7/10
Draw: 5/2
PSV: 9/2
AC Milan are the favourites to win at home. A $100 bet on the hosts could return $70 in profit, while the same bet on PSV could return $450 in profit.
The most likely outcomes for the game this Wednesday are a 2-1 victory for the hosts and a 1-1 draw, both valued at 7/1.
Mario Balotelli and Stephan El Shaarawy are the favourites to score for Milan, both valued at 10/11 (bet $100 to profit $90), while Tim Matavz is the favourite to score for PSV at 2/1 (bet $100 to profit $200).
The winner of this tie goes through to the UEFA Champions League group stage.
Let's see how it plays out!