The Most Interesting Football Matchups in the Month of May 2013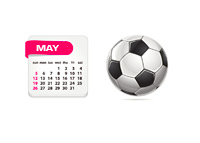 Now that the UEFA Champions League and UEFA Europa League semi-finals are behind us, lets take a look at some of the more important games coming up in the month of May.
Manchester United have won the English Premier League, Bayern Munich have won the Bundesliga, Barcelona have pretty much won the La Liga, PSG are for sure winning Ligue 1 and Juventus are one game away from winning Serie A. All the champions in the five major leagues are known, but there is still a lot to be played for. Teams near the top are battling for a place in the Champions League / Europa League next season, while the teams towards the bottom are battling for survival in the top divisions. There are several cup finals yet to be played and of course towards the end of the month there are the UEFA Champions League and Europa League finals.
Everything will come together, or unfold for some, over the next four or so weeks.
Lets take a look at the most interesting matchups coming up in May 2013:
Saturday 4 May
Borussia v Bayern (Bundesliga)
Fiorentina v AS Roma (Serie A)
Sunday 5 May
Liverpool v Everton (EPL)
Man Utd v Chelsea (EPL)
Napoli v Inter (Serie A)
Tuesday 7 May
Troyes v Bordeaux (Coupe de France semi-final)
Wednesday 8 May
Chelsea v Tottenham (EPL)
Real Madrid v Malaga (La Liga)
Evian v Lorient (Coupe de France semi-final)
Saturday 11 May
Manchester City v Wigan (FA Cup final)
Sunday 12 May
AC Milan v AS Roma (Serie A)
Atletico Madrid v Barcelona (Serie A)
Lyon v PSG (Ligue 1)
Wednesday 15 May
Chelsea v. Benfica (UEFA Europa League final)
Friday 17 May
Real Madrid v Atletico Madrid (Copa del Rey Final)
Saturday 18 May
St Etienne v Marseille (Ligue 1)
Nice v Lyon (Ligue 1)
Sunday 19 May
Ferreira vs. FC Porto (P. Liga)
Chelsea v Everton (EPL)
AS Roma v Napoli (Serie A)
Saturday 25 May
Bayern v. Borussia (UEFA Champions League final)
Sunday 26 May
Lille v St Etienne (Ligue 1)
Roma v Lazio (Coppa Italia final)
Wednesday 29 May
Real Sociedad v Real Madrid (La Liga)
Saturday 1 Jun
Bayern v VfB Stuttgart (DFB Pokal final)
The games above wrap up the 2012/13 football season. Hope you get to enjoy them. We will be doing previews of individual matchups on the site. Have a good month of May!