Manchester United vs. Chelsea FC Betting Odds and Game Preview - Sunday, May 5th, 2013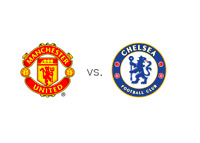 The newly-crowned champions of the English Premier League (EPL) Manchester United are hosts to fourth place Chelsea on Sunday, May 5th, 2013.
With four games to go in the season, Chelsea are in a race with Arsenal and Tottenham for two remaining spots that lead to the UEFA Champions League. Rafael Benitez's team have a good chance of qualifying, but they could really use something out of the game at Old Trafford before they face fifth place Tottenham at Stamford Bridge on Wednesday.
Manchester United, having won the title already, are relaxed, but will probably make their old foes Chelsea work very hard in the upcoming match.
Man Utd: 6/5
Draw 13/5
Chelsea 12/5
Manchester United are the favourites to win at home and a $100 bet placed on the Red Devils returns $120 in profit while the same bet on Chelsea returns $240 in profit if successful.
Manchester United most recently tied Arsenal 1-1 in London after beating Aston Villa 3-0 at home the weekend before.
Chelsea most recently eliminated FC Basel 5-2 on aggregate in the semi-finals of the UEFA Europa League, while in the EPL, they most recently beat Swansea City 2-0 at home.
Manchester United and Chelsea already played four times this season. In the English Premier League Manchester United beat Chelsea at Stamford Bridge 2-3, while a few days later at the same venue Chelsea came out on top with the same score in the Capital One Cup. in the FA Cup quarter-finals the score was 2-2 in Manchester and in the repeat game in London Chelsea advanced to the semi-finals with the score of 1-0.
This should be a very entertaining match. Manchester United are playing for fun and might even play some of their bench players on Sunday, while the underdogs Chelsea will have to fight hard for points and a possible ticket to the UEFA Champions League next season.