Manchester United Publish Financials for the 2012/13 Season - Record Revenues Announced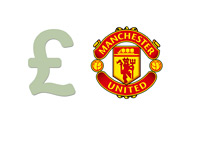 Manchester United have announced their financials for the 2013 fiscal season.
The English Premier League (EPL) champions had a record revenue season last year and their profits have increased five folds compared to the previous year.
Here are some of the official numbers published by the club:
Total Revenues: £363.2 million (increase of £42 million vs. last year)
Net Profit: £146.4 million (last year the profits were £23 million)
Commercial Revenues: £152 million (last year they were £117 million)
Matchday Revenues: £109.1 million (last year they were £98.7 million)
Broadcast Revenues: £102 million
Cash Balance: £94 million
Debt: £389.2 million (last year it was £436.2 million)
In the 2013 financial year, Manchester United sold 10% of the company shares in an Initial Public Offering in August 2012 on the New York Stock Exchange.
Manchester United are forecasting further revenue growth in in the current financial year (2013/14 season) to between £420m - £430m. The increase is mainly helped by new television and sponsorship deals.
To view Manchester United's financials from last year (2011/12 season), please
Click here
.