2012/13 League Expenditures vs. Revenues from Player Transfers
The summer transfer season is over. Lets take a look at the transfer numbers by league so far. The data will tell us which leagues gained in player value and which leagues let talent go in exchange for cash.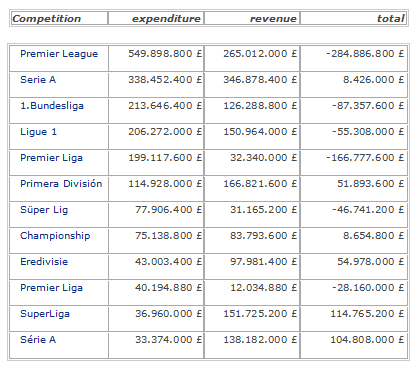 The most player value was added in the British Premier League, a total worth of 284,886,800 £. This number is the difference between the total expenditures for new players by clubs and the total revenues from selling players.
Chelsea FC for example have a negative balance of -79,068,000 £ so far this year. They have sold 2 players and added 5 premium players to their roster. Purchases of Oscar and Eden Hazard alone combined for over 63,000,000 £.
The following teams in the Premier League have spent large sums of money acquiring new players and have a negative cash balance as far as the transfer season is concerned.
Chelsea FC -79.068.000 £
Manchester United -47.163.600 £
Southampton FC -33.440.000 £
Manchester City -33.132.000 £
Liverpool FC -28.292.000 £
A lot of money went around in Italian Serie A as well this year and when the total is calculated, player value decreased in the league. Big names such as Zlatan Ibrahimovic, Thiago Silva and Ezequiel Lavezzi all left the Serie A this year. The total difference between revenues and expenditures by Serie A clubs is 8,426,000 £.
Russian Premier Liga really gained in player value this transfer season. The big reason for that was Zenit St. Petersburg which contributed 82,940,000 £ in added player value to the Premier Liga's total of 166,777,600 £. Zenit St. Petersburg added Hulk and Axel Witsel to their roster and their combined transfer value was 83,600,000 £.
The biggest spending club of all this year is Paris Saint-Germain from French Ligue 1. PSG's expenditures on new players outweigh the revenues from player sales by 126,940,000 £. La Ligue 1's total gain in new player value this year is 55,308,000 £ which means that if there wasn't for PSG, player value would have decreased for the league.
German Bundesliga teams were also big spenders this transfer season and the difference between player purchases and player sales is 87,357,600 £.
Spanish Primera Division's balance is a positive 51,893,600 £ which means that clubs sold more than they bought this transfer season.
Source:
Transfermrkt.co.uk