Coppa Italia semi-final - 2nd Leg - Lazio vs. Juventus - Tuesday, January 29th, 2013
On Tuesday, January 29th, 2013 Lazio are hosts to Juventus in the Coppa Italia semi-final 2nd leg match taking place at the Stadio Olimpico in Rome.
In the first match at the Juventus Stadium in Turin on January 22nd, Lazio managed to upset the hosts by scoring late in the game making the final result a 1-1 tie. Federico Peluso scored a 63rd minute header for Juventus and Mauri equalized for the guests in the 86th minute.
The winner of this semi-final plays the winner of Roma vs. Inter Milan matchup. Roma won the 1st leg at home with the score of 2-1.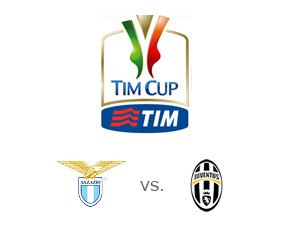 The odds for qualifying to the Coppa Italia finals at Bwin.com on January 23rd are as follows:
Juventus to qualify 1.70
Lazio to qualify 2.10
Juventus are slight favourites to go trough to the finals even though the game is played in Rome. A successful $100 wager on Juventus yields $170 while the same wager on Lazio would yield $210.
Juventus are in good form this year. They are currently in 1st place in Serie A (Italian league) with 48 points after 21 matches. Juventus are also through to the knockout stage of the UEFA Champions League after finishing 1st in their group ahead of Shakhtar Donetsk, Chelsea FC and Nordsjślland.
In their last two league matches Juventus beat 10th place Udinese on January 19th at home with the score of 4-0 and tied 9th place Parma 1-1 the week before.
Lazio are in 3rd place in Serie A with 43 points and most recently they tied 19th place Palermo 2-2 on January 19th and they beat Atalanta 2-0 at home the week before.
In the UEFA Europa League lazio are through to the knockout stage having finished 1st in their group ahead of Tottenham, Panathinaikos and NK Maribor.
This should be an interesting match. Can Juventus pull a victory in Rome and go through to the finals? Can Lazio stand up again to the Italian #1 team at the moment? We will find out on Tuesday.
On November 17th, 2012 when Juventus hosted Lazio in Serie A the score was 0-0.