Latest UEFA Champions League Betting Odds - April 10th, 2014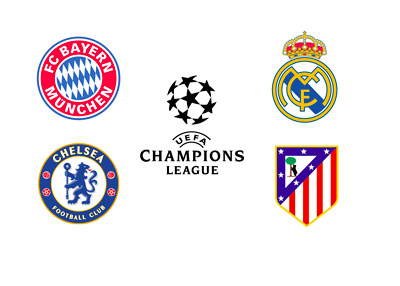 With the quarter finals of the UEFA Champions League behind us, we take a look at the latest betting odds to lift the most prestigious Euro club football trophy this season.
Four teams are left in the 2013/14 tournament: Real Madrid, Chelsea, Atletico Madrid and the last year's champions, Bayern Munich.
Even though Bayern do not seem to be as dominating as they were last year, most still see the Pep Guardiola's side as the favorites to win again.
This is where the four remaining teams stand at the moment, according to the bookies:
Bayern Munich: 6/4
Real Madrid: 7/4
Chelsea: 5/1
Atletico Madrid: 5/1
--
Bayern are the favourites to win, closely followed by Real Madrid. This is the fourth semi-final in a row for Iker Casillas and his teammates, and the hopes of winning the 'La Decima', their tenth Champions League title, are high in the Spanish capital.
Jose Mourinho, Pep Guardiola and Carlo Ancelotti have all won the Champions League title twice already in their coaching careers, while Diego Simeone, the Atletico Madrid manager, has won the Champions League once, as a player.
Who out of these four outstanding managers will come out on top?
--
The semi-finals of the tournament should be a real treat.
The draw will take place this Friday, April 11th, 2014.
Looking forward to finding out who plays who!