Game Preview: Juventus vs. Real Madrid - UEFA Champions League - 05/11/2013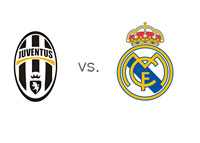 Juventus and Real Madrid meet again in the UEFA Champions League on Tuesday, November 5th in Turin, Italy. Juventus need points and Real Madrid are looking to fine tune their game. Should be a good one.
Juventus have two points from three games in Group B. Real Madrid have nine and have practically already qualified for the round of 16. Juventus will have to tense up, while Real Madrid can get creative.
Since their last meeting at Santiago Bernabeu in Madrid two weeks ago, Juventus have woken up and won their next three Serie A matches while scoring seven goals and conceding none. Real Madrid are vibrating very well at the moment as well. They lost the El Clasico vs. Barcelona 1-2 in a game where they played well and then they beat Sevilla 7-3 at home and Rayo 2-3 away.
Both Juventus and Real have good momentum right now.
The odds for Tuesday's match are:
Juventus: 6/3
Drw: 5/2
Real Madrid: 7/4
Juventus are the slight favourites. A 100 € on Juve could return 150 € in profit, while the same bet on Real Madrid could return 175 €. The most likely score, according to the odds, is a 1-1 draw offered at 11/2
Ronaldo to score: 5 /6
Tevez to score: 6/5
Llorente: 7/4
Benzema 12/5
Bale: 11/4
Pogba: 9/2
Pirlo: 9/2
Gareth Bale is starting to play well for Madrid. Two goals and four assists in the last two games.
Pogba scored a pretty sweet goal on the weekend for Juventus.
Who do you have in this one?