Game Preview: Juventus vs. Galatasaray - UEFA Champions League - October 2nd, 2013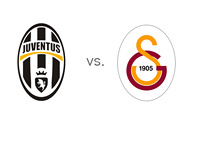 The Italian champions, Juventus, meet the Turkish champions, Galatasaray, in the second round of the UEFA Champions League in Group B on Wednesday, October 2nd, 2013 at Juventus Stadium in Turin.
Juventus are playing well right now. They are in third place in Serie A after six matches played with five wins and one draw. In the UCL, they drew 1-1 with FC Copenhagen two weeks ago. Carlos Tevez, the Argentine striker, is under a question mark for the upcoming match with an ankle injury. Most recently Juventus beat Torino with the score of 0-1.
The latest news from Istambul is that Galatasaray hired ex. Manchester City coach Roberto Mancini to replace Fatih Terim. Galatasaray are looking to bounce back after a sloppy start to the season. The Turkish champions have one win and four draws in the Super Lig so far, and they took a heavy beating against Real Madrid in the first round of the UCL.
The odds for the upcoming match are:
Juventus: 3/10
Draw: 9/2
Galatasaray: 12/1
It is pretty hard to believe that the odds of Galatasaray winning are 12/1. A 100 € bet on the Turkish side could produce 1,200 € in profit. The same bet on Juventus could generate 30 € in profit.
Carlos Tevez (4/6) and Fernando Llorente (5/6) are the favourites to score for the home side, while Burak Yilmaz (10/3) is the favourite to score for Galatasaray.
Ok, now I am really looking forward to this match. Sure Galatasaray have had an off start, but they could easily wake up in time for this match, especially with the new manager in place.