Odds and Preview for Real Madrid vs. Chelsea FC in the International Champions Cup Final - August 7th, 2013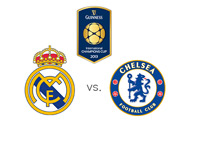 Real Madrid are facing Chelsea FC in the International Champions Cup final. The match will be taking place at the Sun Life Stadium in Miami Gardens, Florida on Wednesday, August 7th, 2013.
The International Champions Cup (ICC) is a pre-season friendly tournament featuring some of the top names in today's football. Real Madrid earned their spot in the final by beating LA Galaxy 3-1 and Everton 2-0, while Chelsea beat both Inter and AC Milan with the score of 2-0.
The odds for the upcoming match in Miami Gardens are as follows:
Real Madrid: 1/1
Draw: 5/2
Chelsea: 2/1
Real Madrid are the favourites. A $100 bet on Real Madrid could return $100 in profit, while the same bet on Chelsea could return $200 in profit.
Both teams are in good form and remain undefeated in all of their pre-season games.
The interesting thing about this match-up is that Carlo Ancelotti, the Real Madrid coach, managed Chelsea from 2009-2011, while Jose Mourinho, the Chelsea coach, managed Real Madrid from 2010-2013.
From a coaching standpoint, these two teams know each other very well. Let's see how the match plays out on the field.
Game start time is 9pm EDT.