Game Preview: Real Madrid vs. Atletico - Copa del Rey 2nd Leg - Thursday, 15/01/2015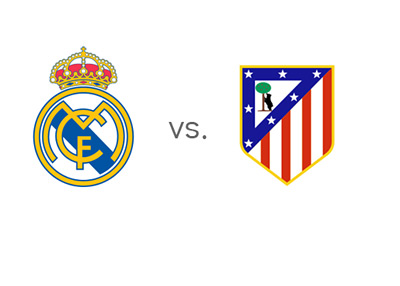 Atletico Madrid would seem to have their tails-up when they face Real Madrid in the 2nd leg of the Copa Del Rey on Wednesday January the 15th at the Bernabeu stadium. The 1st leg on January 7 was a forgettable affair for Los Blancos having gone down 0-2 to their city rivals at the Vincente Claderon.
Recent performances would likely to have a bearing on the January 15 showdown. Real began the year with a 1-2 loss to Valencia ending their 22-game unbeaten run. The 0-2 loss to Atletico in the Copa Del Rey fixture last week couldn't have bolstered their morale. But a convincing 3-0 win against Espanyol a couple of days ago in the Spanish league suggest that Los Blancos may have found their feet again. Atletico on the other hand would have liked to travel to Bernabeu on a real high. But their morale got seriously punctured after 1-3 drubbing at the hands of Barcelona over the weekend. Their famed defense came apart against Messi & co and a mere 32% possession showed that just dour defending against powerful attacks could sometimes backfire.
The odds for the upcoming match at Santiago Bernabeu are as follows:
Real Madrid: 8/15
Draw: 10/3
Atletico Madrid: 5/1
Odds to qualify:
Real Madrid: 5/2
Atletico Madrid: 2/7
--
Carlo Ancelotti's side are the favourites to win the upcoming match, but Atletico are the big favourites to advance to the next round. Afterall, if Atletico score just one goal on Thursday, it would mean that Real would need to score at least four to win on aggregate and advance to the quarter-finals.
Taking into considering that Atletico beat Real in their last three matches following the UEFA Champions League final last May, this could be a very tough task for Ronaldo and his teammates.
Getting through Atletico's defense is the big challenge. Diego Simeone's side are notorious for committing eight men to defend in a low block, which absolutely narrows down the scope of a meaningful attack against them.
Los Blancos will be looking for revenge and with the likes of CR7, Bale, Benzema, Rodrigues, Isco, Ramos & co. in their ranks they just have too much firepower not to score at least once in front of their home fans.
This could be a great game!