Strengthened Galatasaray are Hosts to Slumping Schalke 04 in the UEFA Champions League Round of 16
Update: Final Score -
Galatasaray vs. Schalke 1-1
--
Galatasaray are hosts to Schalke 04 on Wednesday February 20th, 2013 in the 1st leg of the UEFA Champions League round of 16 at the Ali Sami Yen Spor Kompleksi stadium in Istanbul.
Expectations are very high in Istanbul ahead of this matchup. In addition to their already strong squad, Galatasaray signed UEFA Champions League winners Didier Drogba, who won the trophy with Chelsea last year, and Wesley Sneijder who won it with Inter in 2009/10. Schalke 04 on the other hand are in a slump having won only one out of their last 10 Bundesliga matches.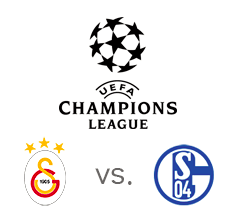 Galatasaray are favourites to win the first match in Istanbul.
Galatasaray 6/5
Draw 5/2
Schalke 5/2
A successful $100 wager on Galatasaray returns a total of $220 while the same wager on Schalke brings in a total of $350.
Can Schalke bring their form back? After all they finished first out of Group B ahead of Arsenal, Olympiacos and Montpellier and they seemed to have it together in the Bundesliga in the first part of the season. They have a new coach, Jens Keller and if they are going to turn it on again this year, now is the time.
Galatasaray finished 2nd in Group H behind Manchester United and ahead of CFR Cluj and SC Braga. How will they adjust to having two new stars on the team? Will the team have enough time to jell before facing Schalke? How will they deal with high expectations?
We will find out tomorrow. Should be a very interesting match.