Game Preview: Finland vs. Spain - World Cup Qualifiers - September 6th, 2013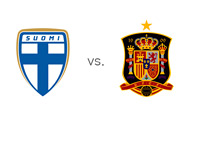 Finland will host Spain - the world and European champions - in the 6th round of World Cup Brazil qualifiers in Group I. This match will be on Friday, September 6th, 2013 at the Olympic Stadium in Helsinki.
There are three group matches left to be played for both Finland and Spain, and the upcoming battle is a very important one. After five games, Spain are at the top of the Group I tables with 11 points, followed by France with 10 points and Finland with 6 points. Georgia and Belarus are at the bottom of the tables with 4 points each.
With a win against Finland on Friday, Spain would keep their number one spot in the group. Considering that Spain will play their remaining two fixtures against Belarus and Georgia at home, it would be safe to assume that, if they can beat Finland, they would win Group I and qualify directly for the World Cup in Brazil.
For Finland, this is a must-win game if they are to stand a chance of qualifying to the World Cup. They will face an uphill battle against the world champions; however, managing to draw with Spain 1-1 earlier in the group stage could give them the confidence to try and beat the odds again.
Speaking of odds, let's take a look at where the two teams stand for the match in Helsinki:
Finland: 16/1
Draw: 11/2
Spain: 1/6
According to the odds, it would be a minor miracle if Finland managed to win on Friday. A 100 € bet on the hosts could return 1,600 € in profit, while the same bet on Spain could return 16 € in profit.
The most likely score, according to the odds, is a 0-2 victory for Spain, offered at 9/2 (bet 100 € for a chance to profit 450 €).
Roberto Soldado is the favourite to score for Spain at 8/11, while Erfan Zeneli is the favourite to score for Finland at 7/1 (bet 100 € for a chance to profit 700 €).
Spain will be without Fernando Torres and Juan Mata who have not yet been getting regular play this season at Chelsea FC. Iker Casillas will be on goal for the world champions.
This should be a great game to watch!