European Qualifiers for the FIFA World Cup 2014 - Competition Format
The 53 European nations are competing for 13 spots that lead to the 2014 FIFA World Cup where they will join 19 more teams from the rest of the world including the host country Brazil. Qualification games are starting on September 7th, 2012 and will finish on the 19th of November 2013.
The way qualifications work in Europe is as follows:
The 53 teams are divided into eight groups of six teams and one group of 5 teams. Each team plays home and away matches against other teams in their group. The winner of each group (9 teams total) qualifies for the 2014 FIFA World Cup. a The 8 best group runners-up proceed to round two where they will be paired up into a home-and-away series and the 4 winners will qualify for the 2014 FIFA World Cup.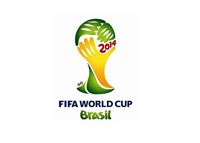 To balance out the strength of each group, FIFA World Ranking of July 2011 were used when the groups were created.
Top 9 teams (Spain, Germany, Italy etc.) are considered leaders and were placed in number one spots in each group. The following 9 teams (teams ranked from number 10 to 18: Sweden, Russia, France etc.) take the 2nd spot in the groups, and so on.
Preliminary Draw was held in Rio de Janeiro on July 30th, 2011.
Here is what the groups look like:
Group A
: Croatia, Serbia, Belgium, Scotland, FYR Macedonia and Wales
Group B
: Italy, Denmar, Czech Republic, Bulgaria, Armenia and Malta
Group C
: Germany, Sweden, Republic of Ireland, Austria, Faroe Islands and Kazakhstan
Group D
: Netherlands, Turkey, Hungary, Romania, Estonia and Andorra
Group E
: Nortay, Slovenia, Switzerland, Albania, Cyprus and Iceland
Group F
: Portugal, Russia, Israel, Northern Ireland, Azerbaijan and Luxembourg
Group G
: Greece, Slovaia, Bosnia-Herzegovina, Lithuania, Latvia and Liechtenstein
Group H
: England, Montenegro, Uraine, Poland, Moldova and San Marino
Group I
: Spain, France, Belarus, Georgia and Finland
The kick off for the 20th FIFA World Cup finals is on Thursday - June 12th, 2014.
Which 13 teams will represent Europe?
Group I features Spain and France.
Croatia and Serbia are in Group A.
Lets see how it all plays out.