Deportivo Fight for Survival Against Real Sociedad on June 1st, 2013 in the Last Round of the Spanish La Liga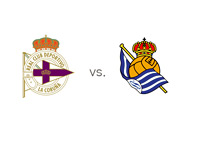 There is a very interesting matchup brewing between 17th place Deportivo and 5th place Real Sociedad on June 1st, 2013 at Estadio Riazor in the last round of the Spanish La Liga.
Deportivo are fighting for survival in the first division and all three points out of this match are crucial for them as they would guarantee the club stayed in the Primera division next season. Celta Vigo (18th), Real Zaragoza (19th) and Mallorca (20th) are all within striking distance of Deportivo in the tables and any one of these teams has the potential to climb up to safety on Saturday.
Real Sociedad on the other hand are positioned in 5th place, two points behind 4th place Valencia and in contention for a spot that leads to the UEFA Champions League qualifications. Real Sociedad are in good form and will battle hard for a chance to play top European football next season.
Deportivo have had a nice run in their last ten La Liga matches winning 5, drawing 3 and losing 2 games. Most recently Deportivo lost to Malaga 3-1.
Real Sociedad have had an outstanding season and most recently they tied with Real Madrid 3-3 after winning vs. Sevilla 1-2.
Lets take a look at the odds for the upcoming match in A Coruņa:
Deportivo: 8/5
Draw: 5/2
Real Sociedad: 8/5
The two opponents are matched evenly. A $100 bet on either team could return $160 in profit, while the same bet on a draw could return $250 in profit.
Both teams want to win this one and it will most likely be a battle until the very end.
Earlier in the season Real Sociedad and Deportivo drew 1-1 at Anoeta stadium in San Sebastian.
This should be a very entertaining match.