English Premier League - Chelsea vs. West Ham - Odds and Preview - 17 March 2013
Chelsea are hosts to West Ham in the 29th round of the Barclay's Premier League. The game takes place at Stamford Bridge in London on Sunday 17 March 2013 at 4 PM local time.
Even though West Ham beat Chelsea 3-1 on December 1st earlier in the season, Chelsea are huge favourites in the upcoming match.
Chelsea 4/11
Draw 9/2
West Ham 17/2
This means that a $100 bet on Chelsea could bring $36 in profit while the same bet on West Ham could bring in $850 in profit.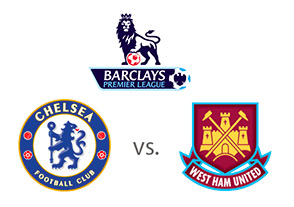 Chelsea have a busy schedule over the next 16 days as they are playing 6 matches in the Premier League, UEFA Europa League and the FA Cup combined. In addition, some of Chelsea team members will play for their respective national teams during the international break on March 22nd and 26th. This means that Rafa Benitez will have to rotate the squad in order to keep his players fresh. Luckily the team is healthy aside from Oriol Romeu who is out with a long-term knee injury.
West Ham schedule is quite the opposite as this will be their only game until March 30th when they host West Brom. West Ham will be without their captain Kevin Nolan who is out with a broken toe and quite possibly Mark Noble (arm) and Joe Cole (hamstring).
Chelsea most recently beat Steaua 3-1 at home in the UEFA Europa League after playing 2-2 with Manchester United in the FA Cup.
West Ham most recently beat Stoke 0-1 after losing to Tottenham at home 2-3.
The upcoming match gives Chelsea a chance to climb over Tottenham and regain the number three spot in the Premier League.
Can West Ham surprise or will it be all Chelsea on Sunday afternoon?