The Odds of Winning the 2013/14 Capital One Cup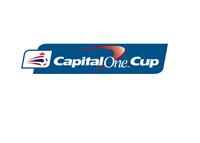 The Capital One Cup, also know as the Football League Cup, is a knock-out competition featuring 92 top clubs in England and Wales. The 2013/14 Capital Cup is in it's 54th season and Swansea City are the defending champions.
Let's take a look at the odds for winning this year's edition of Capital One Cup:
Chelsea 9/2
Manchester City 11/2
Manchester United 7/1
Arsenal 10/1
Liverpool 11/1
Tottenham 11/1
Everton 16/1
Southampton 20/1
Aston Villa 25/1
Newcastle 25/1
Sunderland 28/1
Fulham 33/1
Norwich 33/1
Swansea 33/1
West Ham 33/1
Chelsea are the favourites. A £100 bet on Chelsea could return £450 in profit. The same bet on last year's winners, Swansea, could return £3,300 in profit.
Everythng can happen in a one game knock-out tournament.
Who do you think will win?