Borussia Dortmund vs. Shakhtar Donetsk Match Preview - UEFA Champions League - Round of 16 - 2nd Leg - March 5th, 2013
Borussia Dortmund host Shakhtar Donetsk in the 2nd leg of the UEFA Champions League round of 16 at the BVB Stadion in Dortmund on March 5th, 2013 at 20:45 CET. The score in Donetsk was 2-2.
Borussia Dortmund are favourites here. They have a favourable score from the first match and they are one of the most feared teams from the group stage of the competition where they finished ahead of Real Madrid, Ajax and Manchester City. Borussia are still undefeated in the Champions League this season.
Shakhtar Donetsk are well rested and comfortable in the 1st place in the Ukrainian Premier League. Ukrainian league just finished a long winter break and this will be only the third official match for Shakhtar in 2013. In the domestic league they beat FC Volyn Lutsk 4-1 on Friday making their record so far this season 18 wins in 19 matches.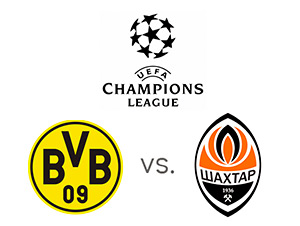 Full Time Result:
Borussia Dortmund 8/13
Draw 10/3
Shakhtar Donetsk 19/4
To Qualify
Borussia Dortmund 2/9
Shakhtar Donetsk 10/3
So a $100 bet on Borussia pays $22 if they qualify and the same bet on Shakhtar pays out $333 in profit.
One thing worth mentioning is that Borussia just lost to Bayern in the German Cup (DFB-Pokal) and in the league they are in 2nd place 17 points behind Bayern. The UEFA Champions League is the only chance for Borussia to earn a trophy this year. This is added pressure for the 2011/12 German league and cup winners.
Shakhtar are confident. They are used to winning domestically and they are going further and further in Europe every year it seems.
This will be a tough match for both teams.
Can Borussia bring back some of their might from the first part of the season and take Shakhtar to school in front of their own fans on Tuesday?
Maybe Shakhtar can surprise the oddmakers and come up with a victory in Dortmund?
We are looking forward to this match!