Borussia Now Favourites to Beat Real Madrid in the First Leg Match in Dortmund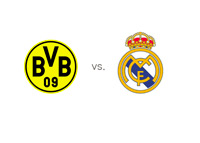 On Wednesday evening at 20:45 CET, Borussia are hosts to Real Madrid in the first leg of the UEFA Champions League semi-final at the BVB Stadion in Dortmund.
Just a couple of days ago Real Madrid were the favourites to beat Borussia in Dortmund as well as to qualify for the finals. In light of Tuesday's game between Bayern Munich and Barcelona where the German team took apart the Spaniards and beat them 4-0, the odds have shifted for the matchup in Dortmund in favour of Borussia.
Borussia Dortmund 9/5
Draw 5/2
Real Madrid 13/8
while 14 hours before the kick-off the odds are:
Borussia Dortmund 33/20
Draw 13/5
Real Madrid 17/10
It seems as the German club gained a little more respect in the eyes of the bettors, causing the line to move.
Maybe the shift occurred when it was taken into consideration how Bayern Munich easily beat Barcelona, while in the same time they struggle every time they meet Borussia in the domestic competitions. In their last two matches in Munich, Bayern tied Borussia 1-1 on December 1st in the league and then beat them 1-0 in the German Cup quarter-finals on February 27th.
Maybe the fact that Borussia already got the better of Madrid in the group stage of the UEFA Champions League does not seem like such a fluke any more. Borussia beat Real Madrid 2-1 in Dortmund and the two teams drew 2-2 in Madrid.
This is an interesting development ahead of the Wednesday's match. Will Borussia feed off the success of Bayern and come out stronger on Wednesday, or will Ronaldo and company be able to calm the emotions down and avenge their group stage loss.
This is lining up to be a great match between two offence-minded sides. Real Madrid are still favourites to qualify to the finals at 12/25 (bet $100 to profit $48) while Borussia are at 9/5 (bet $100 to profit $180).
Lets see how this one plays out!