UEFA Champions League Final - 2013 - Betting Preview and Winning Odds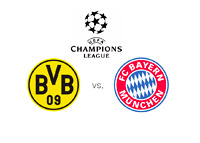 Borussia Dortmund and Bayern Munich meet in the final of the UEFA Champions League (UCL) on Saturday, May 25th, 2013 at Wembley Stadium in London.
On their way to the final, Borussia won Group D ahead of Real Madrid, Ajax and Manchester City and then went on to eliminate Shakhtar Donetsk, Malaga and finally Real Madrid.
Bayern Munich won Group F ahead of Valencia, BATE and LOSC and then eliminated Arsenal, Juventus and Barcelona.
This will be the first time that two German clubs meet in the final of the Champions League.

Video Preview



Borussia Dortmund won the UCL once in the 1996/97 season, while Bayern won the competition four times, most recently in 2000/01. Bayern were in the finals last year when they lost to Chelsea via penalties and also in 2009/10 when they lost to Inter Milan 2-0. This will be their third final in four years. Impressive.
At the start of the current season the odds of Bayern lifting the trophy were 12/1 ($100 bet would return $1,200 in profit) while for Dortmund the odds were 25/1 ($100 bet would return $2,500 in profit).
Lets take a look at the 'to lift the trophy' odds for the upcoming UEFA Champions League final match:
Borussia: 15/8
Bayern: 2/5
Bayern are the favourites to win. A $100 bet on Bayern returns $40 in profit if successful, while the same bet on Dortmund returns $187 in profit.
Bayern and Borussia have had some intense battles in the domestic competitions over the last couple of years. Last year Borussia won the league and the cup, while this year Bayern were the better team winning the league and eliminating Borussia in the quarter-finals of the cup.
The two teams have met four times already this season. On August 12th in the DFB Super Cup match Bayern won 2-1 followed by a December 1st 1-1 league draw in Munich. On February 27th Bayern beat Borussia 1-0 in the DFB Pokal quarter-finals and most recently on May 4th the two teams tied 1-1 in Dortmund in the league.
This game is creating a huge buzz in Germany as well as world wide. Bayern and Borussia truly were the best teams in the competition and well deserving of their place in the final.
Will Borussia be able to surprise on Saturday and beat their archrivals or will Bayern continue their domination and finally lift the trophy for the fifth time after two recent unsuccessful attempts.
The most probable score according to the odds (6/1) is a 1-1 tie which would force overtime.
Lets see how this one plays out!