German Bundesliga - Round 20 - Bayer Leverkusen vs. Borussia Dortmund - Game Odds
Update: Final Score -
Leverkusen vs. Dortmund 2-3
--
On Sunday February 3rd at the BayArena, 2nd place Bayern Leverkusen are hosts to 3rd place Borussia Dortmund in a battle for the runners-up berth in the German Bundesliga.
FC Bayern Munich are sitting comfortably in the number one spot in the league with 48 points after 19 games while Leverkusen have 37 and Dortmund 36. This will be a very exciting game as both Leverkusen and Dortmund have practically given up hoping to catch up to Bayern, but are both very much wanting the number 2 spot in the league. The two teams also want to make sure they keep their spot in the top three in order to directly qualify to the UEFA Champions League Group Stage the following season.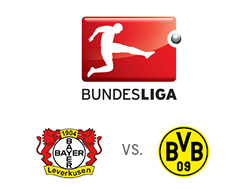 Leverkusen 23/10
Draw 5/2
Dortmund 11/10
This means that a $100 bet on Leverkusen could yield a profit of $230 while a successful $110 bet on Dortmund would yield $100 in profit.
Dortmund are the favourites.
Leverkusen are a surprise team in Germany this season having finished in the number 5 spot the year before while Borussia Dortmund, the last year's Bundesliga champions, have been a powerhouse locally as well as in Europe. Borussia are one of the most feared teams in the UEFA Champions League at the moment after winning their group undefeated ahead of Real Madrid, Ajax and Manchester City.
Borussia and Bayer met last in Dortmund on September 15th in the 3rd round of the league and Borussia won that game 3-0. The scorers were Hummels, Blaszczykowski and Lewandowski.
Borussia have 6 points out of 2 games in 2013 having beaten Werder Bremen 0-5 and Numberg 3-0 at home while Bayer Leverkusen tied SC Freiburg 0-0 last and beat Frankfurt 3-1 at home in the game before.
It will be interesting to see how this game will play out. Can Bayer Leverkusen stand up to the mighty Borussia Dortmund this coming Sunday?