Barcelona vs. Deportivo Preview and Odds - Spanish La Liga - March 9, 2013
First place Barcelona are hosts to last place Deportivo in the 27th round of the Spanish La Liga on Saturday, March 9th, 2013 at Camp Nou stadium in Barcelona.
This is an interesting matchup as we will get to see how Barcelona react after a recent slump and ahead of the most important game of the season so far vs. AC Milan in the UEFA Champions League.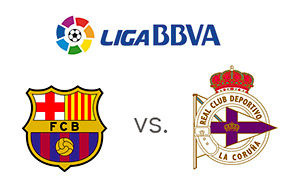 Barcelona want to forget about their last four games. First came the 2-0 loss to AC Milan at San Siro in the Champions League followed by a below par performance vs. Sevilla in the league. Two losses vs. Real Madrid that followed, first in the Cup and then in the league, put Barcelona in in a tough spot. They are out of the domestic cup and unless they give Milan three or more goals at home on Tuesday they are out of the Champions League as well. What started as a dream and record breaking season for Barca is suddenly turning into a mess.
The game against Deportivo is coming at the right time. Messi and company have a good chance here to get back on their feet. Crushing Deportivo could be just what the doctor ordered ahead of the AC Milan game.
Can Barca get their mojo back?
Lets see where the odds are for the upcoming match:
Barcelona 1/9
Draw 8/1
Deportivo 18/1
A successful $100 bet on Barcelona brings in $11 in profit while the same bet on Deportivo could bring in $1,800 in profit. Barcelona are huge favourites to win.
How will it play out on Saturday?
Will Barcelona come out storming and take their frustrations out on last place Deportivo, or will the visitors, smelling blood, go hard and try and take advantage of Barca's poor form?
In their last two games, Deportivo lost 1-2 to Real Madrid followed by a 0-0 tie vs. Rayo.
Barcelona will be without their playmaker Xavi due to a hamstring injury and without their number one goalie Victor Valdes due to a suspension.
It will be interesting to see what happens on Saturday and it will be even more interesting to see what happens in the big game on Tuesday.