Game Preview: Arsenal vs. Borussia Dortmund - The UEFA Champions League - Tuesday, October 22nd, 2013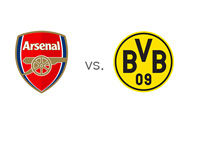 Arsenal are hosts to Borussia Dortmund in the third round of the UEFA Champions League group stage on Tuesday, October 22nd, 2013 at Emirates Stadium in London. This is possibly the most anticipated match in the UCL this week.
Arsenal are on fire at the moment. They are doing everything right and looking good doing it. The Gunners are at the top of the English Premier League tables after eight games played, and they have won their first two UCL group matches vs. Marseilla (away) and Napoli (at home). There is something magical about the way Arsenal are playing these days.
Borussia Dortmund are in second place in the German Bundesliga with seven wins, one loss and one draw. Most recently they beat Hannover 96 with the score of 1-0 at home. Last year's UEFA Champions League finalists have three points from two UCL games. In the first match they lost 2-1 to Napoli in Naples and then went on to outplay Marseille 3-0 in Dortmund.
Walcott is out for Arsenal due to a stomach injury. Jurgen Klopp, Borussia manager, will be in the stands due to a suspension for a
spaz at the ref
during the Napoli game.
The odds for the upcoming game at Emirates are:
Arsenal: 13/10
Draw: 13/5
Borussia: 11/5
Arsenal are the favourites. A 100 € bet on the London side could yield 130 € in profit. The same bet on Borussia Dortmund could yield 220 € in profit.
The most likely score, according to the odds is a 1-1 draw, offered at 11/2.
Olivier Giroud, the French international, is the favourite to score on Tuesday at 6/5, while the Polish striker, Robert Lewandowski, is the favourite to score for Borussia at 7/4.
Mesut Ozil is valued at 2/1 to score, Henrikh Mikhitaryan at 11/4 etc.
This should be an awesome game of football.