Arsenal Holdings plc. Financial Report for the Year Ending May 31st, 2013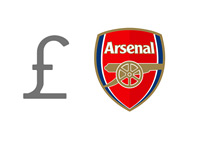 Below you can find some numbers taken out of the Arsenal Holdings plc. financial report for the year ending May 31st, 2013.
Please note the numbers below do not take into account the 2013 summer transfer dealings which include the purchase of Mezut Ozil for £42.5m.
The numbers in brackets are last season's figures.
Total revenues (excluding player trading): £281.2 (£242.6m).
An increase in revenues is due to a new shirt and stadium deal with Emirates.
Revenues from football segment: £242.8 (£235.3m)
- Matchday revenues: £92.8m (£95.2m)
- Broadcasting revenues: £86.0m (£84.7m)
- Commercial revenues: £62.4m (£52.5m)
Revenues from property segment £37.5 (£7.7m)
Arsenal Holdings plc. sold the north-east section of Queensland Road to Barratts for £27m.
Profit from player transfers and loan fees: £47.0m (£65.6m)
Arsenal posted a profit from player transfers mainly because of sales of Robin van Persie (Manchester United) and Alex Song (Barcelona).
Amortisation of player registrations: £41.3m
Operating Expenses: £261.6m (£217.0m)
- Wage expenses: £153.5m
Profit before tax: £6.7m (£36.6m)
Profit after tax: £5.8m (29.6m)
Cash in the bank: £153.5m
Arsenal are financially healthy with substantial cash reserves.