Game Preview: AC Milan vs. Napoli - Serie A - September 22nd, 2013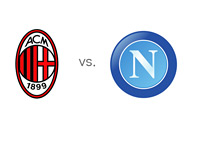 AC Milan are hosts to Napoli in the fourth round of Serie A games on Sunday, September 22nd, 2013 at San Siro stadium in Milan. both teams are coming off UEFA Champions League (UCL) victories and this promises to be a great match.
AC Milan are 1-1-1 in Serie A so far this season and most recently they defeated Celtic 2-0 in the UCL. Several players on the AC Milan squad, including Kaka, Montolivo and El Shaarawy, are injured at the moment and will not be available for the match against Napoli. Mario Balotelli, on the other hand, is in great form.
Napoli are on fire under the leadership of Rafael Benitez. The team is three for three and in first place in Serie A, and they just defeated last year's champions league finalists, Borussia Dortmund, with the score of 2-1. Hamsik, Callejon and Higuain are all playing well and scoring goals.
Let's see where the odds stand for the upcoming match in Milan:
AC Milan: 6/4
Draw: 12/5
Napoli: 17/10
This is going to be a close one according to the odds. A 100 € bet on AC Milan could return 150 € in profit, while the same bet on the guests could return 170 € in profit.
The most likely scorelines are 1-0 and 0-1, both offered at 8/1.
Gonzalo Higuain is the favourite to score for Napoli at 5/4 (bet 100 € for a chance to win 125 €), while Mario Balotelli is the favourite to score for Milan at 7/5 (bet 100 € for a chance to win 140 €).
This should be a great game. Can Napoli continue their great form and come up with a win on Sunday, or will AC Milan have the answer for Rafa Benitez and his team?
Last time these two teams met at San Siro was in April, during the 2012/13 season, and the score was 1-1.
This should be an awesome game!