AC Milan vs. Chelsea FC - International Champions Cup 2013 - Odds and Preview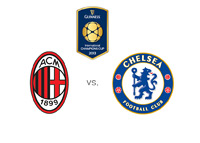 AC Milan play against Chelsea FC in the second round of the International Champions Cup (ICC) on Sunday, August 4th, 2013 in New York, NY.
In Round 1 of the pre-season tournament, Milan eliminated Valencia C.F. 2-1, while Chelsea beat Inter 2-0.
AC Milan had an interesting game against Manchester City a few days ago in the Audi Cup 2013 which was held in Munich, Germany. The Italian team lost 5-3, with all eight goals coming in the first half. AC Milan went down 5-0 and then scored three goals. In the game for third place, AC Milan beat Sao Paulo 1-0.
Chelsea FC have a perfect pre-season record so far which includes three wins on their Asia Tour 2013. It seems that things are clicking with Jose Mourinho back in the manager seat.
The odds for the upcoming game in New York are as follows:
Chelsea: 4/5
Draw: 5/2
AC Milan: 16/5
Chelsea are the favourites to win on Sunday. A $100 wagered on Chelsea could return $80 in profit, while the same bet on AC Milan could return $320 in profit.
The winner of the match plays either Real Madrid or Everton in the International Champions Cup final in Miami on August 7th.
It would be something to see Jose Mourinho play against his former team, Real Madrid, only a few short months after making a much publicized exit.
Mario Balotelli is expected to be with Milan on Sunday after being out with an injury since the FIFA Confederations Cup in Brazil.
This should be a great match!