American Football, Soccer Top List of Most Popular Betting Sports
Published on September 30th, 2019 6:42 pm EST
Written By:
Dave Manuel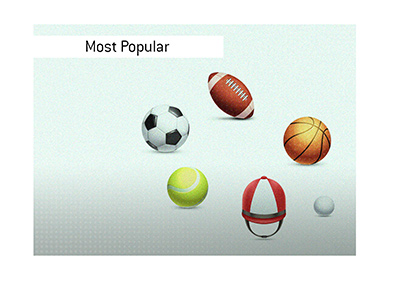 Every year, tens of billions of dollars are wagered on sports around the world.
This includes bets made through legitimate and licensed online betting sites, bets made at the race track, bets made in Las Vegas and bets made with your local bookie.
Betting on sports is extremely popular throughout the world. In fact, in countries such as the United Kingdom, Italy and Australia, betting is practically a way of life.
When considering which sports are the most popular with bettors in terms of total betting volume, you need to consider the massive amounts of money that are bet through offshore sports books and local bookies. If you include these figures, there is a clear #1 in terms of the sports that has the highest betting handle.
Here are the five most popular sports ranked by total betting handle:
1.
American Football.
The NFL is still the 800 pound gorilla of the betting space, despite the fact that sports betting is still illegal in many US states.
The annual Super Bowl will have tens of billions of dollars in total wagers, and that is just for a single game.
If you include all of the money that is wagered through offshore bookies, the NFL is the clear #1 when it comes to total betting handle. Americans love to wager, and they especially love to bet on the NFL.
2.
Soccer.
The obvious second choice. In countries like the United Kingdom and Italy, it is soccer and then everything else.
If we took the United States out of the equation, soccer would be head and shoulders above every other sport.
There is a big, big drop-off until we get to the #3 sport, which is..
3.
Tennis.
This might come as a surprise, but tennis is extremely popular with gamblers across the world.
One of the biggest reasons? There is a tennis event practically every week, and there are four major Grand Slam events to wager on every year.
Tennis has a strong international appeal, and gamblers around the world love to wager on the sport.
4.
Horse Racing.
People love to head to the track to bet on the horses - in fact, it's almost impossible to watch a horse race without putting a couple of dollars down on the outcome.
With all of the major horse races every year - from the Kentucky Derby to the Grand National to the Preakness Stakes - it's hard not to see why horse racing is so popular with gamblers.
5.
Basketball.
When you combine the NBA with the European basketball leagues with college basketball in the United States, basketball generates a tremendous amount of betting volume throughout the world.
The biggest betting event of the year for basketball remains "March Madness", where American bettors will routinely wager billions of dollars on the outcome of the tournament.
-
Other notable sports that move the needle with gamblers include golf, motor sports and boxing/MMA.